Alvar Aalto – e la natura – architectural cruise From Jyväskylä
Wednesday –  Friday during 27.06. – 31.08.2018 (Not on Friday 27.07.2018) Extra Day Sat 01.09.2018
Please Notice: Friday 20.07.2018 the Cruise is cancelled.
From 14.00 pm until 18.30 pm
Welcome to experience the Alvar Aalto Cruise on Lake Päijänne. The most well
known Finnish architect Alvar Aalto used to spend his time in the beautiful Säynätsalo area where he also used to have his summer house – designed by himself of course. During this trip you'll get known with Alvar Aalto's history and the Säynätasalo Town hall which is designed by Aalto. Did you know that Alvar Aalto has often travelled to Säynätsalo by the same boat s/s Suomi?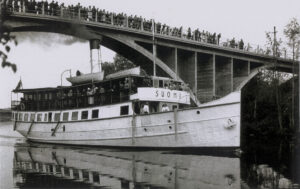 Our genuine steam boat s/s Suomi departs from Jyväskylä harbour at 14.00 pm and arrives to Säynätsalo dock at 15.20pm where the guide is waiting for you. Together with the guide you'll find your way to the Säynätsalo Town Hall where the guide will tell you more about Aalto's unique design. After the tour you'll head back to Jyväskylä by local bus nro 16 (departs at 18.00).
The price does include the cruise, guidance and the bus ticket.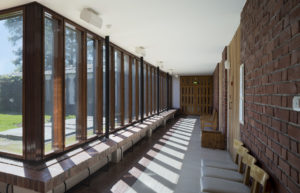 During the cruise
there's a chance to buy buffet lunch and there's also a cafe at the Säynätsalo Town Hall.
Price: 33,00 /person (incl. VAT)
Lunch during the cruise 21,00/person
Coffee with Alvar Aalto cake 5,50/person
More information about Säynätsalo Town Hall
And more information Jyväskylä Area
Vinkkaa kaverille: